Axalta Coating Systems Ltd. (NYSE:AXTA) today announced net sales $1.2939 billion in the second quarter ended June 30, up 4.8% year-over-year (YoY) from $1.2349 billion last year. The result was driven by a 6.8% higher average price mix and a 1.6% benefit resulting from the absence of the commercial agreement restructuring charge incurred in Q2 2022.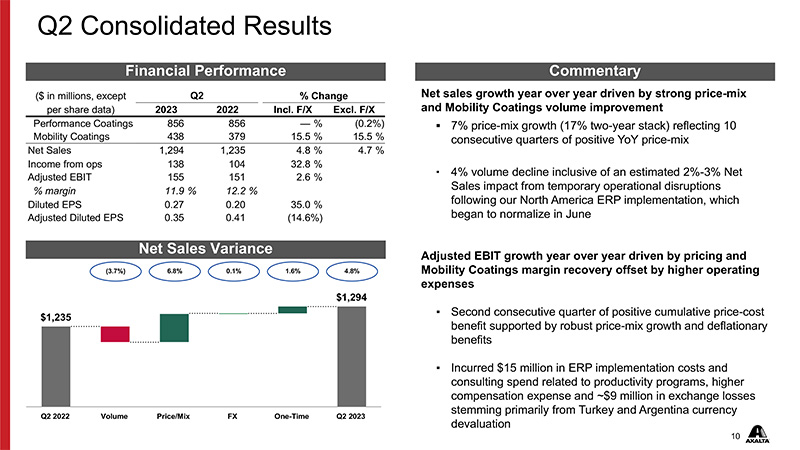 Volumes decreased by 3.7% as market demand in Mobility Coatings and Refinish were more than offset by temporary operational delays impacting the company's ability to meet customer demand from an ERP implementation in North America.
Despite notable stabilization in June, warehouse management and slower shipping activities in the quarter resulted in an estimated negative 2%-3% year-over-year net sales impact and drove an elevated quarter-end sales backlog, most notably in Refinish.
Mobility Coatings net sales increased 15.5% led predominantly by strong volumes and modest improvement in price-mix. Performance Coatings net sales were flat year-over-year as pricing momentum in both end-markets was offset by lower volumes in both end-markets.
Income from operations for Q2 2023 totaled $137.6 million versus $103.6 million in Q2 2022. Adjusted EBIT improved to $154.5 million from $150.6 million in Q2 2022 as price-cost trends were positive across all end-markets given the combined benefit of strong year-over-year pricing and variable cost deflation. Income from operations in the quarter was impacted negatively by higher year-over-year compensation expense and approximately $15 million of costs associated with consulting spend and the ERP implementation. Adjusted EBIT was also negatively impacted by ~$9 million in exchange losses stemming from the devaluation of net monetary assets denominated in the Turkish Lira and Argentine Peso.
Chris Villavarayan, Axalta's CEO and President, commented, "The quarter reflected strong underlying earnings and profitability improvement, particularly in Mobility Coatings where momentum is building. I am particularly proud of how our teams rebounded from a broad and complex ERP implementation in May and delivered a solid quarter, including a sales performance for North America in June that was one of the strongest in our history. This launch was a crucial step towards achieving the margin improvement trajectory we want for Axalta."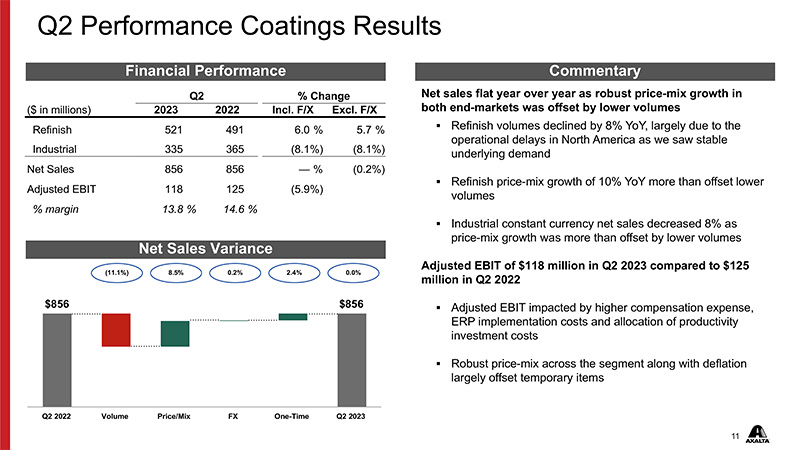 Performance Coatings second quarter net sales were flat year-over-year at $856.0 million led by 8.5% better price-mix and a 2.4% benefit from the absence of the commercial agreement restructuring charge from Q2 2022. Volumes declined by 11.1% predominantly related to the sales impact of the ERP implementation and from a weaker Industrial market environment.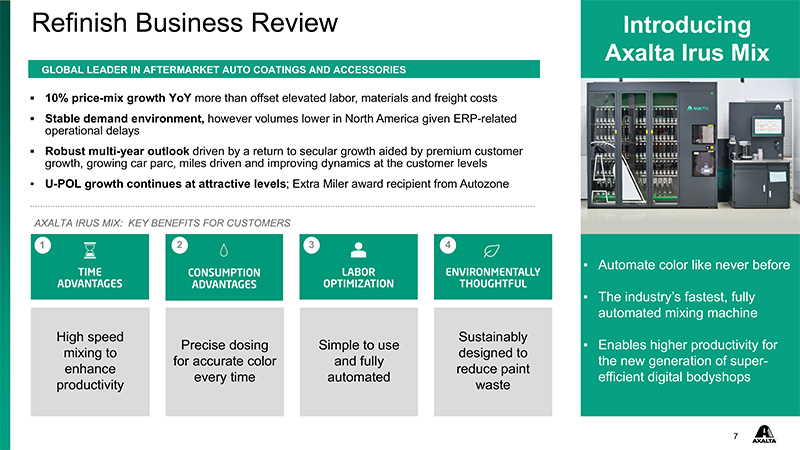 Refinish net sales increased 6.0% year-over-year to $520.7 million, driven by price-mix improvement of 10.0%, supported by new and carry-over pricing efforts. Price-mix improved 1.7% sequentially reflecting actions taken earlier in the year. Volumes decreased by 8.4% year-over-year as a supportive market environment with typical seasonal order patterns was overshadowed by the ERP implementation which drove an elevated quarter-end backlog. Market activity remained largely stable as miles driven and return to work dynamics were consistent with prior periods. Body shop backlogs are elevated given continued parts and labor shortages.
Industrial net sales decreased 8.1% year-over-year to $335.3 million, as positive price-mix was more than offset by lower volumes. Price-mix improved 6.5% year-over-year as the business continued to prioritize margin recovery. Volumes declined 14.6% year-over-year mostly from a continuation of soft market activity that began in mid-2022.
The Performance Coatings segment generated Adjusted EBIT of $117.8 million in the second quarter compared with $125.2 million in Q2 2022, with associated margins of 13.8% and 14.6%, respectively. Price-cost was a significant tailwind given strong pricing and modest raw material deflationary benefits, though this was more than offset by higher variable compensation expense and temporary costs from the ERP implementation and productivity programs.