Refinish sales and volumes both up in the quarter.
Axalta Coating Systems Ltd. (NYSE:AXTA) announced net sales increased 9.4% year-over-year, and 12.1% excluding the impact of foreign exchange (FX) rates, for the first quarter ended March 31. The strong growth was driven by 9.4% higher average price mix and 2.7% better volumes, offset by a 2.7% foreign currency headwind.
Performance Coatings first quarter net sales increased 4.0% year-over-year, and 6.9% excluding the impact of FX, to $847.1 million driven by a 10.3% price-mix benefit. Volumes declined 3.4% as modest growth in Refinish was more than offset by softer regional activity within Industrial, inclusive of slow recovery in China from COVID-19 lockdowns and softer demand in EMEA. Foreign currency translation in the first quarter was a 2.9% year-over-year headwind led by the Euro, Chinese Yuan, British Pound and Turkish Lira, partially offset by the Mexican Peso.
Refinish net sales increased 7.8%, and 10.9% excluding the impact of FX, year-over-year to $497.6 million, driven predominantly by price-mix growth of 10.0%. Volume increased modestly by 0.9% as strong growth with MSOs in North America more than offset slow recovery in China as a result of COVID-19 lockdowns.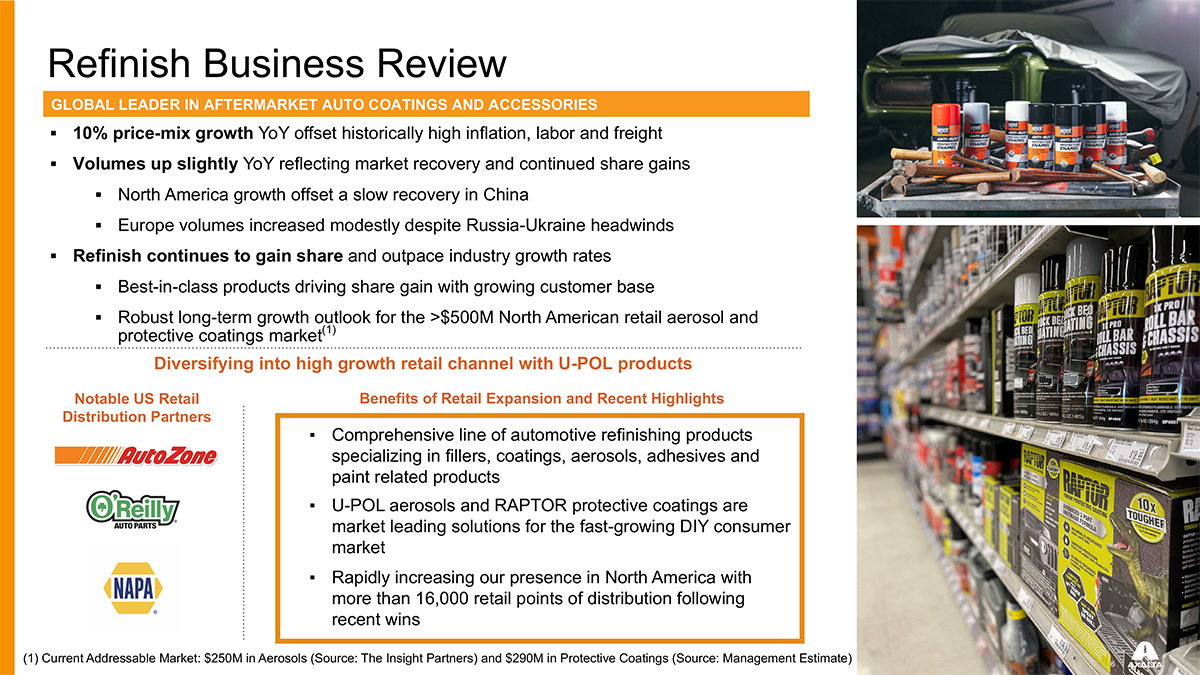 According to the company in its core North America and EMEA markets, body shop customers are still being impacted by parts and labor shortages, which is driving elevated backlogs and continues to strain volume growth. However, share gains, MSO consolidation, increased points of distribution and expansion into adjacent markets are driving growth in the business and the expected continuation of above-market performance.
For the quarter, income from operations for Q1 2023 totaled $125.3 million versus $86.3 million in Q1 2022. Net income to common shareholders was $60.5 million for the quarter, inclusive of a $7.1 million pre-tax charge associated with the anticipated exit of a non-core product category within Mobility Coatings, compared with $41.5 million in Q1 2022.
Chris Villavarayan, Axalta's CEO and President, commented, "I am pleased to report first quarter earnings above our guidance range and am encouraged by the progress clearly demonstrated in our results. We are building momentum and working hard to maximize the opportunity in front of us through focusing on more efficient execution at our plants, productivity across all functions and working with our partners to realize the full value of our product and services. We are taking actions to strengthen Axalta's long-term profitability, and as I close my first quarter as CEO, the future looks bright. I am excited to unlock the tremendous potential of this organization and wish to congratulate the entire Axalta team for a well executed quarter."