The Collision Repair Education Foundation (CREF) announced that it will again be partnering with FinishMaster for the 3rd Annual PiN Master Challenge, which offers a chance for high school and college collision tech students to compete for prizes, equipment and bragging rights. Held in conjunction with FinishMaster's Hood Master Challenge, PiN Master is scheduled for September 22 at 6-9 p.m. at the Biltwell in Indianapolis, Ind.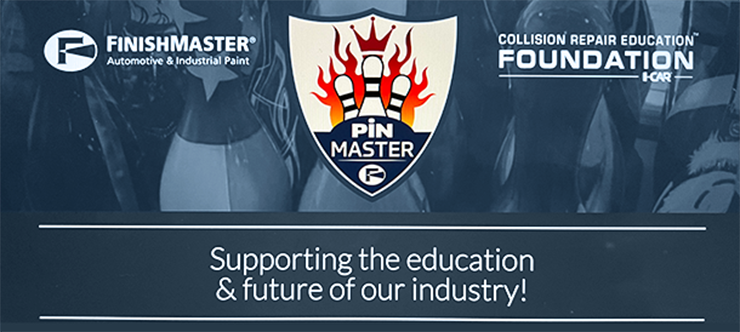 "The 2023 PiN Master Challenge allows collision students to demonstrate their skills – and showcase their talents – by designing and creating the best restored and painted bowling pin, offering an optimal opportunity to demonstrate the artistry painters in this industry exhibit. We hope you'll join us for a fun evening of exception art, networking and support for collision repair students," explains Tiffany Bulak, CREF Program Manager. "A panel of industry professionals and influencers will judge each entry on design, repair and paint technique to select four winners to win prizes, such as paint guns and other useful tools, to help advance them in their careers."
Eligibility for the 2023 PiN Master Challenge is open to any high school or college student enrolled in collision repair program, including students graduating in May or June 2023. Registration is now open, and CREF will be accepting entries through Friday, August 18.
Additional information and registration information for the 2023 PiN Master Challenge is available online.
Further championing CREF's mission to support collision repair educational programs, schools and students, FinishMaster will also be hosting the third annual Hood Master fundraiser, where industry supporters can bid on the beautifully artistic hoods and pins created by last year's Hood Master and PiN Master competitors FinishMaster raised $13,000 for the Foundation during last year's auction.
More information about Hood Master, including sponsorship opportunities, is also available online.
"We're excited to see PiN Master grow each year, and we urge industry professionals to encourage students they might know to showcase their talents," Bulak says. "It's vital that we take advantage of all possible opportunities to generate excitement around this industry and its viability as a career option for students to consider by spotlighting both the industry and the students studying collision repair in high school or college."