Avid golfers from the collision repair industry and local Southern California businesses had an opportunity to tee it up in the desert sunshine at Tahquitz Creek Golf Resort on Tuesday for the annual NABC Palm Springs Pars for Cars Golf Fundraiser, presented by Hertz, all part of "NABC Day".
Each year, the NABC and its member partners raise funds to support hundreds of NABC Recycled Rides car presentations to those in need, NABC F.R.E.E. education programs for first responders, and NABC Drive Out Distraction programs that keeps thousands of drivers safe on the road.
When the scores were tallied, just two shots separated the winners and second and third had to be settled in a scorecard playoff. Winners of the event included:
1st Place — Score: 53 -Joe Flowers, Juan Escalera, David Anderson and Tim Hjort (shown below with Kristen Alexander from URG, one of the trophy sponsors)
2nd Place — Score: 55 (scorecard playoff) -Josh Cox, Marc Sebastian, Mike Kucera and Brian Von Tress
3rd Place — Score: 55 (scorecard playoff) – Sandy Panduro, Mark D'Angelo, Roman Castaneda and Cindy Pieper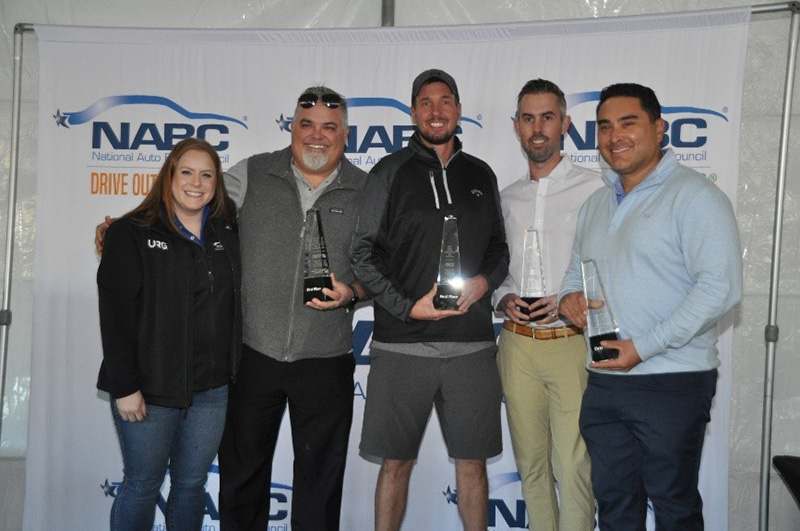 The winners of the longest drive contest were Rob McGee and Cindy Pieper. Closest to the pin winners were Steve Topczewski and Cindy Pieper. The NABC Drive Out Distraction putting contest was won by Roy Duplantier.
Following the golf tournament, NABC and its partners hosted a NABC Recycled Rides event, presenting vehicles to three deserving local families in need. NABC Recycled Rides is a unique program in which businesses representing all facets of the collision repair industry team up to repair and donate vehicles to individuals and families in need of reliable transportation. Since the inception of the NABC Recycled Rides program in 2007, members of the National Auto Body Council have donated more than 3,000 vehicles valued at more than $42 million.
NABC announced the schedule of two additional NABC Pars for Cars Golf Fundraisers for 2023, including:
NABC Lone Star Pars for Cars Golf Fundraiser — April 4, 2023 – Texas Star Golf Course, Dallas, TX
NABC Gateway Pars for Cars Golf Fundraiser – September 11, 2023 – Boone Valley Golf Club, St. Louis, MO