Legislation would require crash parts and auto glass that meet or exceed OEM specifications, requires insurers to follow manufacturer ADAS procedures.
Legislation introduced on Friday in the Illinois House of Representatives seeks to amend the state's insurance code to regulate aftermarket collision repair parts and glass. Illinois House Bill 4719 (HB 4719) was introduced January 21 by Illinois State Rep. Elizabeth Hernandez.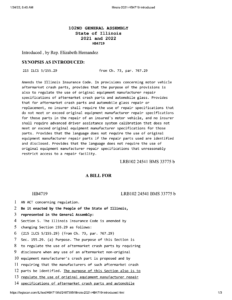 The language in this bill differs from previous legislation introduced by Hernandez over the last several years seeking to require OEM collision repair procedures.
HB 4719 bill seeks to amend the Illinois Insurance Code Section 155.29 by adding