The Collision Repair Education Foundation (CREF) is seeking industry sponsorship for high school and college collision repair school programs nationwide to provide students with work uniforms. Instructors that have received these uniforms for their students in the past have shared that their students feel a new sense of pride and professionalism when wearing them. Collision repair school programs showcasing a professional appearance is key factor to attract the best students possible to their programs and this opportunity allows local businesses to help local schools through CREF.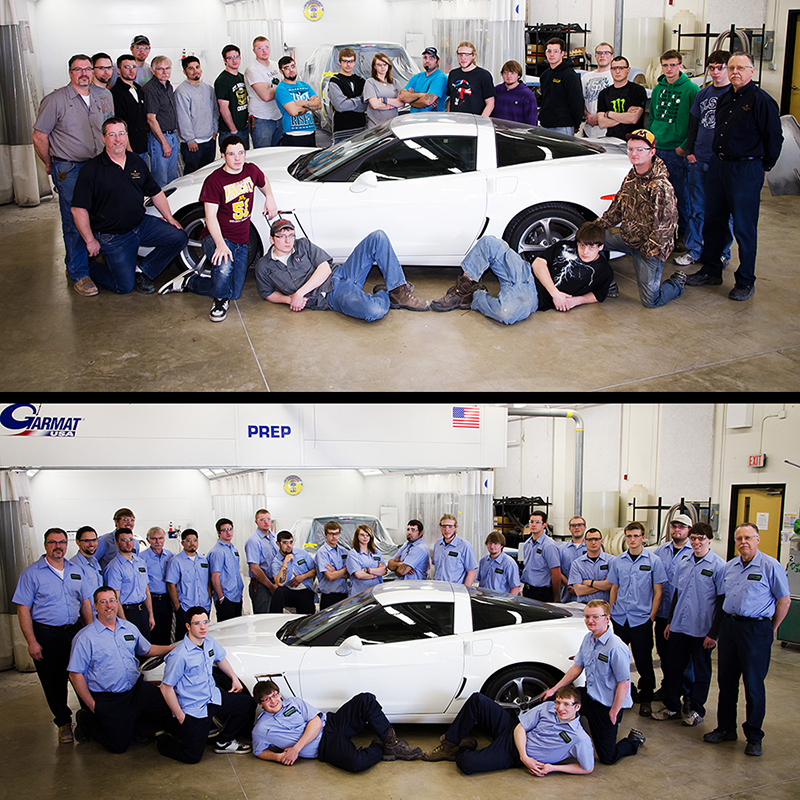 Alex Defas, Collision Instructor at Middlesex County Vocational & Technical School in Piscataway, N.J. said, "Providing uniforms for students at an entry-level helps them assimilate and become part of an ever growing and changing collision industry. Students become empowered to know that they are technicians in the making, allowing it to be more gratifying learning and teaching this trade."
"A lot of my students do not have many clothes of their own and want to keep what they have in great shape, so uniforms are crucial to getting them motivated. Also, we strive to teach them professionals and 'real world' experiences, so this is a must," said Nick Perry, Collision Instructor at Madison Park Technical Vocational High School in Boston, Mass.
For $50 per student, each would receive a brand-new pair of Cintas work pants, work shirt, ear plugs, and safety glasses. Those businesses that sponsor at least (20) students will have their logos added to the work shirts.
Schools listed below have completed CREF's most recent annual school survey, which helps collect data on their collision programs, and makes them eligible for support opportunities such as uniform sponsorship. Industry members who work with other high school and college collision school program that are not listed should contact CREF to assist in having them complete the survey. Industry members interested in uniform sponsorship should contact Tiffany Bulak, CREF Development and Marketing Coordinator at Tiffany.Bulak@ed-foundation.org.
| | | | | |
| --- | --- | --- | --- | --- |
| School | City | ST | # of Students | Uniform Sponsorship |
| DeKalb County Technology Center | Rainsville | AL | 36 | $1,800 |
| Gardendale High School | Gardendale | AL | 50 | $2,500 |
| Allen Thornton Career Technical Center | Killen | AL | 31 | $1,550 |
| Limestone County Career Technical Center | Athens | AL | 35 | $1,750 |
| Shelby County Career Technical Educational Center | Columbiana | AL | 26 | $1,300 |
| Cleburne County Career Technology School | Heflin | AL | 16 | $800 |
| Earnest Pruett Center of Technology | Hollywood | AL | 36 | $1,800 |
| Walker County Center of Technology | Jasper | AL | 43 | $2,150 |
| A.P. Brewer High School | Somerville | AL | 68 | $3,400 |
| North Central Career Center | Leslie | AR | 7 | $350 |
| Arkansas State University-Newport | Marked Tree | AR | 12 | $600 |
| West-MEC High School | Phoenix | AZ | 16 | $800 |
| Metro Tech High School | Phoenix | AZ | 55 | $2,750 |
| El Camino College | Torrance | CA | 80 | $4,000 |
| Fresno City College | Fresno | CA | 16 | $800 |
| Cerritos Community College | Norwalk | CA | 130 | $6,500 |
| Contra Costa College | San Pablo | CA | 50 | $2,500 |
| Allan Hancock College | Santa Maria | CA | 50 | $2,500 |
| Central Learning Adult School Site | Fresno | CA | 24 | $1,200 |
| Morgan Community College | Ft. Morgan | CO | 14 | $700 |
| Bollman Technical Education Center | Thornton | CO | 52 | $2,600 |
| Aims Community College | Windsor | CO | 33 | $1,650 |
| Paul M. Hodgson Vocational Technical School | Newark | DE | 58 | $2,900 |
| Sussex Technical High School | Georgetown | DE | 30 | $1,500 |
| Cocoa High School | Cocoa | FL | 200 | $10,000 |
| Seminole High School | Sanford | FL | 30 | $1,500 |
| Middleburg High School | Middleburg | FL | 60 | $3,000 |
| Tampa Bay Technical High School | Tampa | FL | 80 | $4,000 |
| Sheridan Technical College | Hollywood | FL | 15 | $750 |
| Lake Technical College | Eustis | FL | 26 | $1,300 |
| Maxwell High School of Technology | Lawrenceville | GA | 82 | $4,100 |
| Chattahoochee Technical College | Jasper | GA | 12 | $600 |
| North Georgia Technical College | Clarkesville | GA | 15 | $750 |
| Honolulu Community College | Honolulu | HI | 23 | $1,150 |
| Mililani High School | Mililani | HI | 29 | $1,450 |
| Southeastern Community College | West Burlington | IA | 10 | $500 |
| Scott Community College | Bettendorf | IA | 6 | $300 |
| Hawkeye Community College | Waterloo | IA | 10 | $500 |
| Lewis-Clark State College | Lewiston | ID | 9 | $450 |
| College of Southern Idaho | Twin Falls | ID | 15 | $750 |
| Minico High School | Rupert | ID | 45 | $2,250 |
| Thornton Fractional Center for Academics and Technology | Calumet City | IL | 37 | $1,850 |
| Marengo Comm High School | Marengo | IL | 12 | $600 |
| John A. Logan College | Carterville | IL | 23 | $1,150 |
| Okaw Area Vocational Center | Vandalia | IL | 19 | $950 |
| Indian Valley Vocational Center | Sandwich | IL | 20 | $1,000 |
| Kennedy King College | Chicago | IL | 25 | $1,250 |
| Woodruff Career and Technical Center | Peoria | IL | 38 | $1,900 |
| Kokomo Area Career Center | Kokomo | IN | 54 | $2,700 |
| Area 30 Career Center | Greencastle | IN | 17 | $850 |
| J. Everett Light Career Center | Indianapolis | IN | 56 | $2,800 |
| Lincoln College of Technology Indianapolis | Indianapolis | IN | 85 | $4,250 |
| Prosser Career Education Center | New Albany | IN | 72 | $3,600 |
| Coffeyville Community College | Columbus | KS | 10 | $500 |
| Seward County Community College | Liberal | KS | 36 | $1,800 |
| Salina Area Technical College | Salina | KS | 27 | $1,350 |
| Paducah Area Technology Center | Paducah | KY | 40 | $2,000 |
| Eastside Technical Center | Lexington | KY | 23 | $1,150 |
| Morgan County ATC | West Liberty | KY | 60 | $3,000 |
| Gateway Community & Technical College | Ft. Wright | KY | 8 | $400 |
| Walker High School | Walker | LA | 25 | $1,250 |
| Montachusett Regional Vocational Technical High School | Fitchburg | MA | 66 | $3,300 |
| Bay Path Regional Vocational Technical High School | Charlton | MA | 44 | $2,200 |
| Southeastern Regional Vocational Technical School | South Easton | MA | 32 | $1,600 |
| Greater Lowell Technical High School | Tyngsboro | MA | 41 | $2,050 |
| Cape Cod Regional Technical High School | Harwich | MA | 37 | $1,850 |
| Northeast Metropolitan Regional Vocational School | Wakefield | MA | 50 | $2,500 |
| Tri-County Regional Vocational Technical High School | Franklin | MA | 19 | $950 |
| Smith Vocational and Agricultural High School | Northampton | MA | 31 | $1,550 |
| Center for Applied Technology South | Edgewater | MD | 42 | $2,100 |
| Harford Technical High School | Bel Air | MD | 40 | $2,000 |
| Washington County Technical High School | Hagerstown | MD | 26 | $1,300 |
| Gaithersburg High School | Gaithersburg | MD | 72 | $3,600 |
| Region Two School of Applied Technology | Houlton | ME | 24 | $1,200 |
| Oxford Hills Technical School | South Paris | ME | 33 | $1,650 |
| Sanford Regional Technical Center | Sanford | ME | 32 | $1,600 |
| Mid-Coast School of Technology | Rockland | ME | 21 | $1,050 |
| Tuscola Technology Center | Caro | MI | 26 | $1,300 |
| Bay-Arenac ISD Career Center | Bay City | MI | 18 | $900 |
| Kent Career Technical Center | Grand Rapids | MI | 90 | $4,500 |
| South Central College | North Mankato | MN | 28 | $1,400 |
| Dakota County Technical College | Rosemount | MN | 36 | $1,800 |
| Saint Cloud Technical and Community College | Saint Cloud | MN | 12 | $600 |
| Northland Community & Technical College | Thief River Falls | MN | 15 | $750 |
| Ridgewater College | Willmar | MN | 22 | $1,100 |
| Lake Career & Tech Center | Camdenton | MO | 30 | $1,500 |
| Nichols Career Center | Jefferson City | MO | 20 | $1,000 |
| Sikeston Career Technology Center | Sikeston | MO | 15 | $750 |
| Dallas County Technical Center | Louisburg | MO | 10 | $500 |
| Arcadia Valley Career Tech | Ironton | MO | 12 | $600 |
| Unitec Career Center | Bonne Terre | MO | 39 | $1,950 |
| Cape Girardeau Career & Technology Center | Cape Girardeau | MO | 28 | $1,400 |
| Lex La-Ray Technical Center | Lexington | MO | 17 | $850 |
| Kennett Career and Technology Center | Kennett | MO | 26 | $1,300 |
| Gibson Technical Center | Reeds Spring | MO | 18 | $900 |
| Moberly Area Technical Center | Moberly | MO | 30 | $1,500 |
| Rolla Technical Institute | Rolla | MO | 35 | $1,750 |
| Itawamba Career and Technical Center | Fulton | MS | 30 | $1,500 |
| City College at Montana State University Billings | Billings | MT | 17 | $850 |
| Fayetteville Technical Community College | Fayetteville | NC | 90 | $4,500 |
| Career Academy & Technical School | Troutman | NC | 25 | $1,250 |
| Southeast Guilford High School | Greensboro | NC | 72 | $3,600 |
| Guilford Technical Community College | Jamestown | NC | 28 | $1,400 |
| Central Academy of Technology and Arts | Monroe | NC | 19 | $950 |
| Forsyth Tech Community College | Winston Salem | NC | 34 | $1,700 |
| Central Carolina Community College | Sanford | NC | 3 | $150 |
| Westover High School | Fayetteville | NC | 47 | $2,350 |
| Sandhills Community College | Pinehurst | NC | 11 | $550 |
| North Dakota State College of Science | Wahpeton | ND | 15 | $750 |
| Southeast Community College | Milford | NE | 25 | $1,250 |
| Metropolitan Community College | Omaha | NE | 50 | $2,500 |
| Raymond Central High School | Raymond | NE | 6 | $300 |
| Northeast Community College | Norfolk | NE | 20 | $1,000 |
| Western Nebraska Community College | Scottsbluff | NE | 22 | $1,100 |
| Dover High School and Regional Career Technical Center | Dover | NH | 30 | $1,500 |
| Bergen Technical School Paramus Campus | Paramus | NJ | 33 | $1,650 |
| GST BOCES | Painted Post | NY | 15 | $750 |
| Sullivan County BOCES | Liberty | NY | 18 | $900 |
| Ellicottville Career and Technical Center | Ellicottville | NY | 16 | $800 |
| W.D. Ormsby Educational Center | East Aurora | NY | 26 | $1,300 |
| Monroe 2 Orleans Career Center | Spencerport | NY | 30 | $1,500 |
| LoGuidice Educational Center | Fredonia | NY | 39 | $1,950 |
| GST BOCES Bush Campus | Elmira | NY | 20 | $1,000 |
| New York Automotive & Diesel Institute | Jamaica | NY | 45 | $2,250 |
| Erie Community College South Campus | Orchard Park | NY | 32 | $1,600 |
| Erie 1 BOCES Kenton Career Center | Tonawonda | NY | 32 | $1,600 |
| Champlain Valley Educational Services | Plattsburgh | NY | 20 | $1,000 |
| Genesee Valley BOCES | Mt. Morris | NY | 13 | $650 |
| Thomas A Edison CTE High School | Jamaica | NY | 31 | $1,550 |
| Cayuga Onondaga BOCES | Auburn | NY | 16 | $800 |
| Four County Career Center | Archbold | OH | 14 | $700 |
| Waite High School | Toledo | OH | 45 | $2,250 |
| Parma Senior High School | Parma | OH | 35 | $1,750 |
| Mahoning County Career and Technical Center | Canfield | OH | 27 | $1,350 |
| EHOVE Career Center | Milan | OH | 21 | $1,050 |
| Sentinel Career Center | Tiffin | OH | 30 | $1,500 |
| Ashtabula County Career and Technical Campus | Jefferson | OH | 17 | $850 |
| Collins Career Center | Chesapeake | OH | 22 | $1,100 |
| Tri-County Career Center | Nelsonville | OH | 26 | $1,300 |
| Greene County Career Center | Xenia | OH | 21 | $1,050 |
| Jefferson County JVS | Bloomingdale | OH | 12 | $600 |
| Diamond Oaks Career Center | Cincinnati | OH | 21 | $1,050 |
| Miami Valley Career Technology Ctr | Englewood | OH | 33 | $1,650 |
| Pioneer Career & Technology Center | Shelby | OH | 29 | $1,450 |
| Autry Technology Center | Enid | OK | 37 | $1,850 |
| Northeast Tech Afton | Afton | OK | 35 | $1,750 |
| Mid-Del Technology Center | Midwest City | OK | 21 | $1,050 |
| CV Tech Chickasha | Chickasha | OK | 31 | $1,550 |
| Great Plains Technology Center | Lawton | OK | 32 | $1,600 |
| Southern Tech | Ardmore | OK | 28 | $1,400 |
| Cumberland Perry Area Vocational Technical School | Mechanicsburg | PA | 32 | $1,600 |
| Eastern Center for Arts and Technology | Willow Grove | PA | 41 | $2,050 |
| Forbes Road Career and Technology Center | Monroeville | PA | 41 | $2,050 |
| Rosedale Technical College | Pittsburgh | PA | 27 | $1,350 |
| North Montco Technical Career Center | Lansdale | PA | 40 | $2,000 |
| Career Technology Center of Lackawanna County | Scranton | PA | 18 | $900 |
| Erie High School | Erie | PA | 48 | $2,400 |
| Indiana County Technology Center | Indiana | PA | 41 | $2,050 |
| Columbia Montour Area Vocational Technical School | Bloomsburg | PA | 42 | $2,100 |
| Somerset County Technology Center | Somerset | PA | 40 | $2,000 |
| Berks Career and Technology Center | Leesport | PA | 35 | $1,750 |
| Northern Tier Career Center | Towanda | PA | 35 | $1,750 |
| Bethlehem Area Vocational Technical School | Bethlehem | PA | 48 | $2,400 |
| The Workshop High School | Philadelphia | PA | 35 | $1,750 |
| Beaver County Career &Technology Center | Monaca | PA | 33 | $1,650 |
| Central Montco Technical High School | Plymouth Meeting | PA | 32 | $1,600 |
| Bucks County Technical High School | Fairless Hills | PA | 39 | $1,950 |
| Lebanon County Career and Technology Center | Lebanon | PA | 27 | $1,350 |
| Dauphin County Technical School | Harrisburg | PA | 17 | $850 |
| Berks Career and Technology Center | Oley | PA | 36 | $1,800 |
| Butler Area County Vocational Technical School | Butler | PA | 32 | $1,600 |
| Union County Career Center | Union | SC | 50 | $2,500 |
| Enoree Career Center | Greenville | SC | 24 | $1,200 |
| Applied Technology Center | Rock Hill | SC | 50 | $2,500 |
| Hamilton Career and Technology Center | Westminster | SC | 20 | $1,000 |
| Irmo High School | Columbia | SC | 35 | $1,750 |
| Lexington Technology Center | Lexington | SC | 45 | $2,250 |
| PALM Charter High School | Conway | SC | 49 | $2,450 |
| Lexington 2 Innovation Center | Cayce | SC | 16 | $800 |
| G Frank Russell Technology Center | Greenwood | SC | 25 | $1,250 |
| Newberry County Career Center | Newberry | SC | 15 | $750 |
| Sumter Career and Technology Center | Sumter | SC | 31 | $1,550 |
| Lake Area Technical Institute | Watertown | SD | 33 | $1,650 |
| Northwest High School | Clarksville | TN | 65 | $3,250 |
| Unicoi County CTE School | Erwin | TN | 15 | $750 |
| Tennessee College of Applied Technology Crossville | Crossville | TN | 20 | $1,000 |
| Unaka High School | Elizabethton | TN | 75 | $3,750 |
| Bradley Central High School | Cleveland | TN | 25 | $1,250 |
| Sevier County High School | Sevierville | TN | 61 | $3,050 |
| Lockhart High school | Lockhart | TX | 53 | $2,650 |
| Kingwood Park High School | Kingwood | TX | 73 | $3,650 |
| McAllen Memorial | McAllen | TX | 39 | $1,950 |
| St. Philip's College | San Antonio | TX | 31 | $1,550 |
| Texarkana College | Texarkana | TX | 8 | $400 |
| Joe Calvillo Career and Technology Complex | Weslaco | TX | 25 | $1,250 |
| West Texas Training Center | San Angelo | TX | 35 | $1,750 |
| Reagan Early College High School | Austin | TX | 83 | $4,150 |
| Universal Technical Institute | Houston | TX | 25 | $1,250 |
| Austin Community College | Austin | TX | 36 | $1,800 |
| Skyline High School | Dallas | TX | 23 | $1,150 |
| South Garland High School | Garland | TX | 175 | $8,750 |
| Harlingen High School | Harlingen | TX | 35 | $1,750 |
| South Plains College | Levelland | TX | 12 | $600 |
| Collin College | Allen | TX | 14 | $700 |
| Judson High School | Converse | TX | 66 | $3,300 |
| J B Hensler College & Career Center | Manvel | TX | 26 | $1,300 |
| Salt Lake Community College | Sandy | UT | 36 | $1,800 |
| Ogden High School | Ogden | UT | 73 | $3,650 |
| Granger High School | West Valley City | UT | 150 | $7,500 |
| Bridgerland Technical College | Logan | UT | 53 | $2,650 |
| Ridgeview High school | Clintwood | VA | 30 | $1,500 |
| Fauquier High School | Warrenton | VA | 42 | $2,100 |
| Academies of Loudoun | Leesburg | VA | 37 | $1,850 |
| Dowell J Howard Center | Winchester | VA | 30 | $1,500 |
| Spotsylvania Career and Technical Center | Spotsylvania | VA | 20 | $1,000 |
| Charlottesville-Albemarle Technical Education Center | Charlottesville | VA | 31 | $1,550 |
| Hopewell High School | Hopewell | VA | 32 | $1,600 |
| Smyth Career and Technology Center | Marion | VA | 25 | $1,250 |
| Rowanty Technical Center | Carson | VA | 41 | $2,050 |
| Washington County Career and Technology Center | Abingdon | VA | 40 | $2,000 |
| Chantilly Governor's STEM Academy | Chantilly | VA | 77 | $3,850 |
| Richmond Technical Center | Richmond | VA | 22 | $1,100 |
| Stafford Technical Center | Rutland | VT | 18 | $900 |
| Burlington Technical Center | Burlington | VT | 21 | $1,050 |
| Wenatchee Valley Tech | Wenatchee | WA | 50 | $2,500 |
| Bellingham Technical College | Bellingham | WA | 16 | $800 |
| Tri-Tech Skills Center | Kennewick | WA | 35 | $1,750 |
| Lakeshore Technical College | Cleveland | WI | 18 | $900 |
| Chippewa Valley Technical College | Eau Claire | WI | 12 | $600 |
| Wood County Technical Center | Parkersburg | WV | 15 | $750 |
| Fred W Eberle Technical Center | Buckhannon | WV | 25 | $1,250 |
| Tucker County High School Career Complex | Hambleton | WV | 22 | $1,100 |
| Brooke High School | Follensbee | WV | 28 | $1,400 |
| Carver Career Center | Charleston | WV | 24 | $1,200 |
| Laramie County Community College | Cheyenne | WY | 6 | $300 |