The Alliance of Automotive Service Providers of New Jersey (AASP/NJ) recognized Robbie Berman of Robbie's Automotive and Collision Repair Specialists of Dover with the Stan Wilson/New Jersey Automotive Body Shop of the Year Award at the association's Annual Meeting held last month at Gran Centurions in Clark, N.J.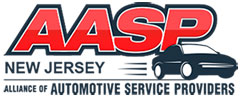 "This guy really knows how to repair cars and he really sets an example for our industry," stated AASP/NJ Treasurer Tom Elder upon presenting the award to Berman.
"It was an honor. I really appreciate that the hard work and dedication I put in the past 37 years was recognized," commented Berman.