While U.S. employer health benefit increases with be high, global health benefit costs set to nearly triple.
U.S. employer-provided medical benefit costs are forecast to rise 6.5 percent in 2020, outpacing general inflation by 3.8 percent, according to the 2020 Global Medical Trend Rates Report released by Aon plc (NYSE:AON). The increase is projected to be the same as the increase employers experience this year.
The increase for U.S. employer-sponsored medical plans expected next year is due to a combination of higher costs for specialty drugs, moderate price increases for care and flat or decreasing health utilization.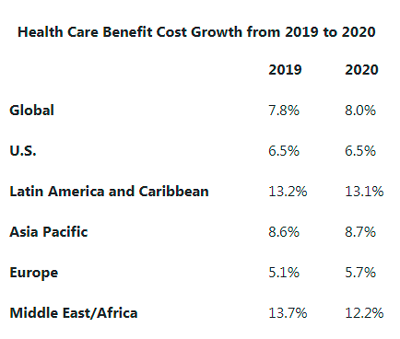 "Employers, insurance carriers