Meeting on advanced driver assistance systems will include opportunities for questions and answers for attendees.
The Alliance of Automotive Service Providers of New Jersey (AASP/NJ) will host a special panel discussion on advanced driver-assistance system (ADAS) technology on Thursday, September 12 beginning at 6:30 p.m. at The Gran Centurions, 440 Madison Hill Road, Clark, NJ.
Recognizing that many re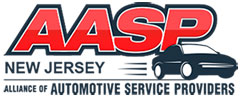 pairers are struggling to stay active and informed in addressing the growth of ADAS in the industry, AASP/NJ will bring together industry representatives to provide an overview of what collision shop owners need to know about this technology.
Scheduled panelists include