The Alliance of Automotive Service Providers of New Jersey (AASP/NJ) will host two seminars focused on addressing labor rates and procedure issues through the Variable Rate System (VRS) by National AutoBody Research.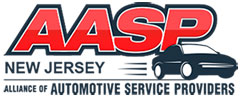 AASP/NJ will host the seminars at locations in both the north and south of New Jersey. The North event will be held Wednesday, May 22 at the Holiday Inn in Totowa; the South event will be held Thursday, May 23 at the Clarion Hotel & Conference Center in Toms River.
Sign-in begins at 7 p.m. for both events with the meeting starting at 7:30 p.m. Food and beverages will be served at both meetings.
"There are so many benefits to the Variable Rate System, and we need to support it. It's the only independent market study out there that has anything to do with rates," shared AASP/NJ President Jerry McNee. "We can't depend on the insurance companies to determine our prevailing rates as they will just tell us what they want to pay. We have to stand up for our rights, and at the end of the day there is strength in numbers. Everyone should come to these sessions as this information will help all in the long run."
"This system provides the basics to demand to be paid fair and reasonable labor rates and to be paid for the necessary procedures required to repair these modern type vehicles properly and safely. This a must-attend meeting that no shop owner can afford to miss," added AASP/NJ Executive Director Charles Bryant.
Pre-registration is required to attend either the North or South meeting. These events are freeto members, the cost for non-members is $75 per person. AASP/NJ will waive the fee to non-members if joining the membership before the event. To register, call (732) 922-8909.