State Farm Insurance Companies announced its continued support for SkillsUSA. The 2019 grant will support the mission of SkillsUSA and several national programs that help SkillsUSA instructors and their students become world class workers, leaders and responsible American citizens.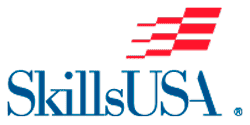 State Farm is supporting:
SkillsUSA's Engage training for teachers at the SkillsUSA National Leadership and Skills Conference (NLSC) in June 2019
Ongoing workshops on educational resources including the SkillsUSA Career Essentials suite, SkillsUSA's flagship curriculum for middle school, high school, college/postsecondary and adult learners
Materials and instruction at the 2019 Call to Action session, held exclusively for over 600 SkillsUSA instructors at the NLSC
A teacher track during the Washington Leadership Training Institute in Washington, D.C., attended by SkillsUSA instructors from 28 states, in September 2019
In addition, SkillsUSA Championships supported by State Farm will include the 2019 Auto Refinishing, Collision Repair and Collision Damage Appraisal competitions, in which national competitors will test their skills against other students and the clock to industry standards for entry-level employees in these fields. State Farm support also includes a Prize Equity Fund for leadership events and a sector sponsorship for the transportation cluster at the national championships.
State Farm Insurance Companies, headquartered in Bloomington, Ill., has been a SkillsUSA supporter for 20 years with a total investment of over $2.8 million.
"SkillsUSA salutes State Farm for supporting our nation's top career and technical education programs as we work to prepare career-ready students," says SkillsUSA's executive director, Timothy Lawrence. "SkillsUSA is a verified talent pipeline and skills gap solution that graduates 100,000 career-ready SkillsUSA students each year. Our organization lifts up and recognizes students and provides much-needed support for their teachers to ensure America has a future skilled workforce. We could not deliver our crucial mission without companies like State Farm working alongside us."
"It is extremely important to have highly skilled technicians in body shops across the nation writing collision damage appraisals, repairing the vehicles and refinishing them," says State Farm Senior Vice President, Property and Casualty Claims, Robert Yi. "The SkillsUSA Championships set industry standards for students and educators and help to ensure that students graduating into these professions possess the knowledge and skills to be successful in their craft."