Overall market share of 10 largest private passenger auto insurers in the U.S. slightly down compared to 2017.
For the first time in six years, the 10 largest private passenger automobile insurers saw their market share decline slightly in 2018 compared to the previous year. The top 10 insurers accounted for 72.17 percent of premiums in 2018, down slightly from 72.33 percent in 2017.
Since 2000, the largest private passenger automobile insurers in the U.S. have been steadily growing their combined market share and more than half of all private passenger auto insurance in the United States is handled by just five companies.
The table below details the market share, since 2000 for the Top 10 largest private insurers in the U.S.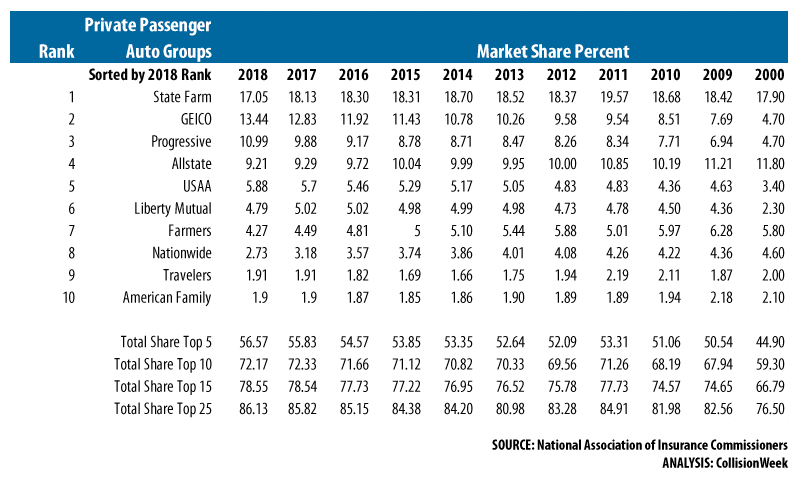 The top five account for 56.67 percent of auto premiums written, up from 55.83 percent in 2017. Almost three in four private passenger auto insurance premiums are handled by the Top 10 at 72.17 percent in 2018. The top 25 companies account for more than $4 out of every $5 in auto insurance premiums for the entire market, at 86.13 percent overall.
According to the final 2018 market share report from the National Association of Insurance Commissioners (NAIC) the top five private passenger auto insurers, however, increased their share to 56.57 percent, up 1.3 percent from 55.83 in 2017. Since 2010, the top five are up 5.51 points in market share a 10.8 percent increase from 51.06. Over the period from 2000-2018, the top five auto insurers have grown 11.67 points, an increase of 26.0 percent from 44.9.
State Farm, the largest auto insurer in the U.S., saw its share decrease for the fourth year in a row, to 17.05 percent, down from 18.13 in 2017 and down from 18.30 percent in 2016. State Farm is down 2.52 points or 12.9 percent from 2011 when they accounted for 19.57 percent of the market.
As the chart below shows, just three of the Top 10 private passenger auto insurers, GEICO, Progressive and USAA, gained market share in 2018. Five insurers, State Farm, Liberty Mutual, Farmers and Nationwide declined in 2018. Travelers and American Family were flat on a year over year basis.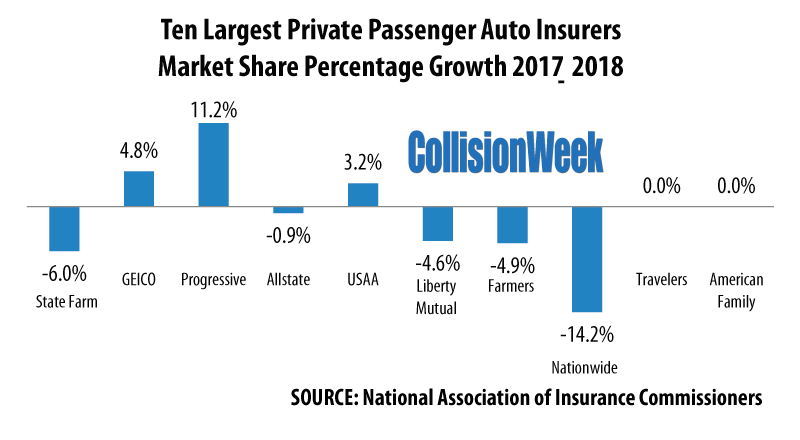 Progressive, had the largest increase at 11.2 percent above its 2017 share. On the other end of the spectrum, Nationwide saw the largest decline in share, down 14.2 percent.
Looking at our chart showing the market share percentage growth over a longer term from 2000-2018 for the Top 10 insurers, four insurers, GEICO, Progressive, USAA and Liberty Mutual, have grown during the period and six insurers, State Farm, Allstate, Farmers, Nationwide, Travelers and American Family, have seen declines in their market share.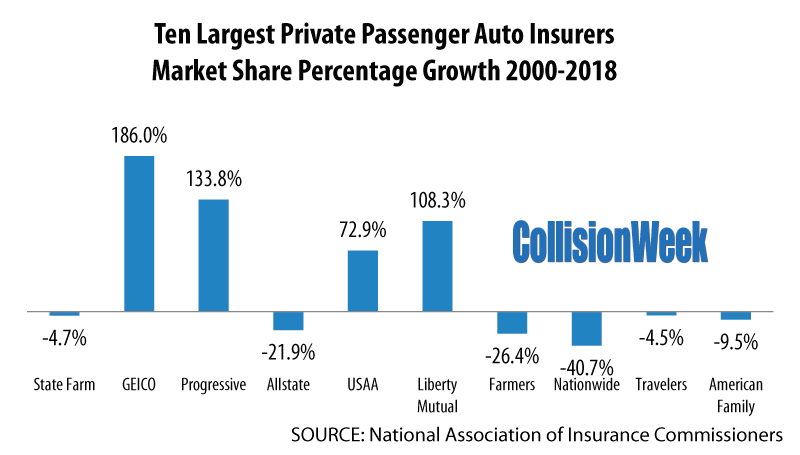 GEICO has grown the most during the 18-year period to 2018, up 186 percent compared to its market share in 2000. GEICO is followed by Progressive, up 133.8 percent since 2000. Liberty Mutual, up 108.3 percent from 2000 through 2018, grew at the third highest rate, though the bulk of that growth came from its 2008 acquisition of Safeco. USAA was up 72.9 percent from 2000.
With the decline posted in 2018, State Farm turned negative over the 2000-2018 period, down 4.7 percent. They had been up just 1.3 percent from 2000-2017.
Nationwide saw the largest decline during the period, losing 40.7 percent of the private passenger auto market share during the period. Farmers had the next largest decline, down 26.4 percent and Allstate was down 21.9 percent from 2000-2018.