Convinced vehicle owner to "sue" insurance company and allegedly pocketed attorney fees.
Arizona Attorney General Mark Brnovich announced a State Grand Jury indicted Donaldo Parra, of Mesa, Ariz. for stealing over $2 million from an elderly woman.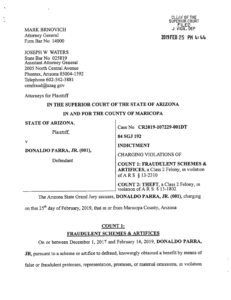 The indictment, filed February 25, arises out of an investigation conducted by the Mesa Police Department. The allegations came to the attention of police when employees of a bank noticed the elderly victim appeared nervous and stressed while withdrawing money from her bank account.
According to a report by Arizona's ABC 15 television station, Parra, who operates an auto body shop in Mesa,