The Collision Industry Hall of Eagles announced it will hold its 2018 Induction Ceremony on Tuesday, August 7 at 8:30 p.m. in Room B206 at the Georgia World Congress Center in Atlanta, Ga. The event, held in conjunction with NACE Automechanika, will commence immediately after the conclusion of the Collision Industry Conference reception.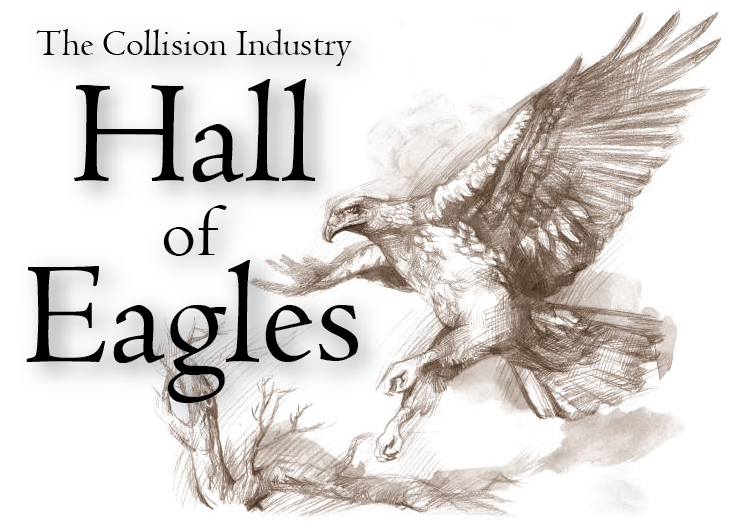 The ceremony is free and open to all industry members who would like to attend and celebrate the achievements of this year's inductees.
The Hall asks that you RSVP online for the event.
The Hall of Eagles, the collision industry's Hall of Fame, honors exceptional individuals whose long-term efforts have reached beyond their jobs and self-interest to make significant contributions towards the betterment of the industry.
Since its creation in 1989, the Hall of Eagles has been viewed as the most prestigious honor any industry professional can receive. Each year only a select few distinguished individuals are inducted into the Hall of Eagles through the nominations and vote of two-thirds of the current active members of the Hall.
"This is a very special and unique award in the collision industry for a couple of reasons, not the least of which is that it is recognition of peers, the Hall of Eagles themselves. Eagles nominate those who have distinguished themselves throughout their career by going above and beyond the requirements of their day jobs, showing consistent dedication, commitment, achievement and passion for the industry," said Rick Tuuri, Chair of the Hall of Eagles Board of Governors and a 2000 Inductee. "Induction requires a two-thirds vote of the active Eagles. As anyone in this industry can tell you, getting two-thirds of any group to agree to anything is, in itself, extremely difficult. So, when two-thirds or more of this august group agrees on an individual for induction that is quite an accomplishment and deserves to be recognized and celebrated. "
The list of Hall of Eagles inductees includes many of the most influential and dedicated people that have served the industry. A complete list of Hall of Eagles' inductees is available online.