Minnesota Careers in Auto Repair and Service (MNCARS) announced the launch of its Motormouth campaign to enable automotive professionals to promote auto service and collision repair careers.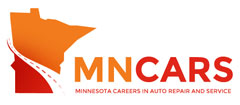 MNCARS has created a toolbox of information to help individuals get started.
The Motormouth toolbox contains a variety of resources, tips and materials to help industry members get involved in their local community and start having conversations with customers, community members and students about the career potential in the automotive industry.
Tools found in the toolbox include:
Display, presentation and handout materials for local career fairs, speaking engagements or other events
Promotional materials