3M Automotive Aftermarket Division, along with the Collision Repair Education Foundation, are auctioning off custom-painted hoods designed by leading painters from around the world to benefit the 3M Hire our Heroes program. The auction began Friday, Oct. 27 and will run through the SEMA show in Las Vegas, which concludes Nov. 3.
Bids on the hoods may be placed online at the 3M PPS Hood Auction Site.
The hoods were created during the 2017 3M PPS World Cup, held in conjunction with the Woodward Dream Cruise in Detroit this summer. 3M invited leading automotive painters from around the world to come to Detroit and participate. They demonstrated their painting skills with the latest 3M solutions for vehicle painting, including the 3M PPS Series 2.0 Spray Cup System.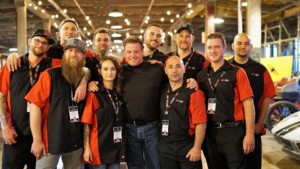 Participating painters included:
Pablo Prado, KandynChrome, USA
Jacob Miles, Milestone Paint & Body, USA
Connie Manjavinos, PassionateInk, USA
Clay Hoberecht, Best Body Shop, USA
Danny Schramm, SchrammWerk, Germany
Christian Wilke, Lackabilly, Germany
Carmine De Maria, C.A.D. Custom, Australia
Shane Wanjon, Exclusive Image Paint and Body, USA
Justin Jimmo, Refinish Network, Canada
Carl-André Giroux, Canada
Ryan "Ryno" Templeton, Blasted by Ryno, USA
The painters from the U.S., Canada, Germany and Australia will join on Wednesday, Nov. 1, at 2:30 p.m. for a reunion at the 3M D.E.M.O trailer located in the Outside Front Lot at SEMA
The painters designed and painted the hoods to reflect their perspective on classic car culture. Also included in the auction are four patriotic themed hoods created by Ryan "Ryno" Templeton.
These hoods will all be auctioned to benefit the 3M Hire Our Heroes program, which since 2013 has raised more than $825,000 for scholarships and tool grants for military veterans and their family members. Nearly 270 military veterans and their families have already received scholarships and grants, and many have graduated from school and are working in the collision repair industry.