Sherwin-Williams Automotive Finishes announced it will hold its next EcoLean Level 2 workshop on April 4-5 at the Westin San Jose Hotel in San Jose, Calif.
While there, the workshop group will have the privilege of touring Golden West Collision Center, a state-of-the-art facility which has completely implemented lean production principles resulting in an exceptional customer experience.
Registration is available online.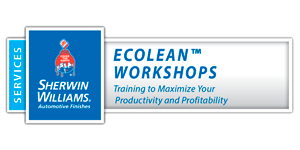 "Attendees will see immediate results by learning to schedule efficiently, implement damage analysis, blueprinting, and a predictable parts process. This is all communicated in our EcoLean Level 2 workshop providing collision shop owners and managers with the tools to