Program designed to help collision repair center operators to incorporate lean production strategies
Sherwin-Williams Automotive Finishes announced its next EcoLean Level 1 workshop will be held March 21-22 at the DoubleTree Suites by Hilton in Detroit, Mich.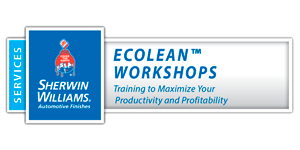 Additional information and registration is available online.
The EcoLean Level 1 workshops from Sherwin-Williams are offered to collision repair center owners and managers, as well as dealer fixed operations managers from across the United States and Canada. They are designed to educate attendees about how to maximize profitability by improving production and eliminating waste throughout their facilities.
"We aim to give our EcoLean