The Alliance of Automotive Service Providers of New Jersey (AASP/NJ) announced that online pre-registration for the NORTHEAST 2017 Automotive Services Show is now open.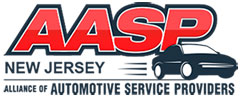 Celebrating their 40th year as the largest regional trade show of its kind in the country, NORTHEAST will be held March 17-19, 2017 at the Meadowlands Exposition Center in Secaucus, NJ. Attendees and vendors can register at www.aaspnjnortheast.com.
Over the last half decade, NORTHEAST has become one of the fastest growing shows in the country, making it a must-attend event for any automotive service professional.
"The growth NORTHEAST continues to show is both rewarding and