On November 2th at the Annual Collision Industry Conference (CIC) Industry Achievement Awards, the Collision Industry Electronic Commerce Association (CIECA) Board of Trustees announced the winners of the 2016 Electronic Commerce awards.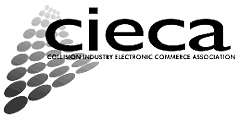 Board Member Steve Betley and Executive Director Fred Iantorno made the presentations.
Electronic Commerce Company of the Year 2016 – This award is extended to one company per year to recognize the company's Outstanding Leadership, Contribution, and Dedication to CIECA and to the Collision Repair Industry.
This year's Electronic Commerce Company of the Year award was presented to Allstate Insurance. Accepting the award for Allstate Insurance was Clint