The 5th annual "Stock the Pantry" Pet Food Drive sponsored by Church Brothers Collision Repair resulted in donations of 2250 pounds of dog and cat food to benefit Indianapolis Animal Care & Control.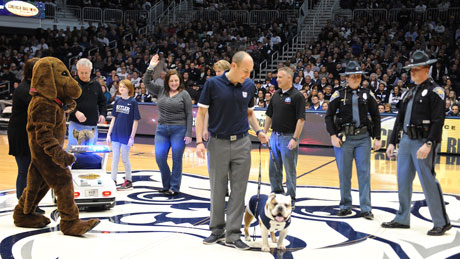 The event was held March 5 during the Butler vs Marquette Men's Basketball Game at Hinkle Fieldhouse. Butler fans donated 750 pounds of food, with an additional 1500 pounds contributed by Holistic Select – the maker of mascot Butler Blue III's cuisine of choice.
This year's donations bring the five-year total to 17,250 pounds of food collected through the event.
Joining Church Brothers Collision Repair as sponsors