The Inter-Industry Conference on Auto Collision Repair (I-CAR) hosted a training session to help approximately 40 Illinois first responders learn the best techniques for extricating occupants from the latest vehicles.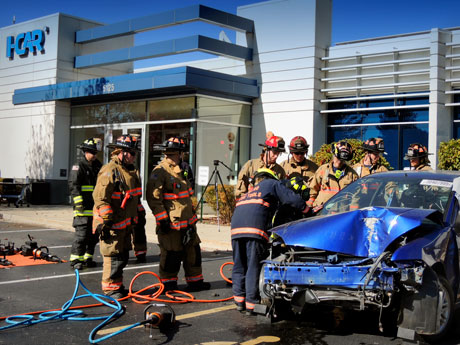 The event, which provided classroom and hands-on instruction at the I-CAR Training Support Center in Hoffman Estates, Ill., is the state's only First Responder Emergency Extraction (FREE) session to be held in 2015. As part of a nationwide program developed by the National Auto Body Council (NABC), the program uniquely provided hands-on opportunities to practice extrication techniques on late-model vehicles.
Advancements in vehicle technology require current training and knowledge on where and how rescue workers should efficiently cut vehicles to extract occupants. This knowledge can save lives while contributing to the safety of first responders.
"I-CAR is proud to be a host location for the NABC FREE event," said I-CAR CEO and President John Van Alstyne. "As a not-for-profit organization, the heart of I-CAR's vision is consumer safety following a collision. Although I-CAR's work with the driving public is centrally focused on collision repair education through the Gold Class® program, providing first responders with extrication training on late-model vehicles is another way we can get critical information and knowledge into the hands of professionals that are involved with the safety of drivers and passengers."
"My hope is every Illinois first responder who completed training returns to their stations and shares what they learned with their colleagues who couldn't be here," said William D. McLeod, Mayor, Village of Hoffman Estates. "For every responder who is equipped with this knowledge, there is another potential life saved."
The classroom training session was conducted by JoAnn Tyler of Holmatro Rescue Equipment. Incorporated in her advice on extraction techniques for first responders are the most current design and technical vehicle information. State Farm donated the vehicles used during the program, and Copart Towing transported the vehicles to the I-CAR site. The session was offered as a free community service, with no charge to the first responders participating.